We are proud to offer a brand new construction innovation known as hup! which replaces the conventional use of brick walls, timber, and slate roofs with highly energy efficient panels and a choice of four roof systems. These ground breaking panels make hup! extensions five times more energy efficient than the typical home in the UK, which means that even if your hup! project has a lot of windows, it will feel just as warm as the rest of your house, even if you have a lot of glass. Because of this cutting edge technology, hup! extensions can be constructed in minimal time required to construct a brick extension.
hup! extensions can be constructed in a fraction of the time required to construct a traditional extension. When your hup! is delivered to your house, the work that would typically take several months to complete with a traditionally built extension has already been completed. After that, we will create your new addition in a short amount of time—typically in just a few days!
hup! is an excellent choice not only for extensions, but also for garden rooms, conservatories, and conservatory transformations. In addition, it is an excellent choice for all properties across the Stevenage area.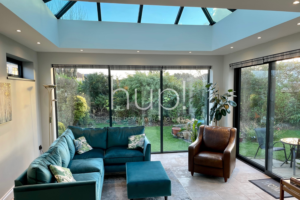 Designed Bespoke to Your Home
At Conserv-A-Tech, we are proud to offer our supplier Ultraframe's hup! technology due to its incredible energy efficient benefits. The ever increasing cost of energy is a burden for all of us, but hup! provides the highest possible level of energy efficiency thanks to its high performance glass, Ultrapanels, and extremely low U-Values. More advantages include:
Your home becoming five times more energy efficient than the typical household in the UK.
Your project will use materials that are in compliance with the new 2022 UK Building Regulations.
Your project will be five times faster than conventional construction, hup! enables installers to make the process quicker and more efficient. It only takes a few minutes to build a wall that is 10 square metres.
Since its manufactured off site, there is no need for any cutting to be done on site, which reduces the amount of time needed.
The highest level of design allows you to select any cladding, windows, and doors to match your dream home.
Designed by Ultraframe with BBA approved technology and manufactured in a BBA-approved factory, we ensure that you will receive a high quality finish that is consistent throughout the process.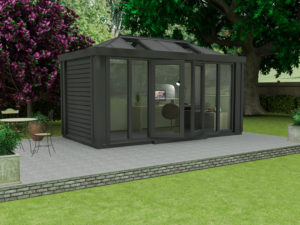 Energy Efficient Benefits:
Your home can achieve an unprecedented level of energy efficiency with the help of hup! This will not only help to lower your monthly energy bills, but it will also help to reduce your carbon footprint and be beneficial to the environment.
Installers are able to create bespoke hup! extensions or conservatories by combining hup! walls and claddings with a choice of 5 Ultraframe roofs. At Conservatech, you can be assured that our new products can results in significantly less disruption and mess than conventional methods.
A hup! extension is five times more energy efficient than the typical home in the United Kingdom, with U-Values that being significantly lower than those required by Building Regulations. These U-Values range from 0.12 to 0.17w/m2K.
Your hup! Journey Starts Here!
Here at Conserv-A-Tech, we offer bespoke double glazing and hup! to homeowners across Hertfordshire. The modern designs and incredible performance will instantly improve both the functionality and visuals of any property. The areas we cover include: Stevenage, Biggleswade, Letchworth, St Albans, Cheshunt, Broxbourne, Hoddesdon, Welwyn Garden City, Cambridge, Radlett & the surrounding Hertfordshire areas. For more information regarding hup! and how to receive your stunning new extensions, conservatory or orangery, contact our team at Conserv-A-Tech today and get your FREE quote!
Categories: Updates
Tags: conservatories, energy efficient, hup!, orangery