Conservatory Styles in Hertfordshire
Conservatories are a fantastic way to enhance your home and create a bright, comfortable living space without needing major or intrusive building works. A perfect alternative to house extensions, our conservatories are ideal as a home office, lounge or area to spend time with your loved ones.
Our expert team of installers can install conservatories across Stevenage, Biggleswade, Letchworth, St Albans, Cheshunt, Broxbourne, Hoddesdon, Welwyn Garden City, Cambridge, Radlett and the surrounding areas. When having a conservatory installed in your Hertfordshire home, it's hard to know which conservatory style is best for you. We can accommodate for a range of conservatory styles, so be sure to check out our classic, designer and performance conservatories.
If you'd like to know more about our full range of conservatories in Hertfordshire and how they can enhance your home, get in touch with a member of our friendly team. We'll be happy to discuss our design and structure options, as well as answer any questions you might have.
Edwardian Conservatories
Edwardian conservatories will add heritage charm to any property they're installed in. Incorporating designs popular in the Edwardian era, the traditional rectangular shape of Edwardian conservatories will help maximise your space and create a usable living area you can enjoy all year round.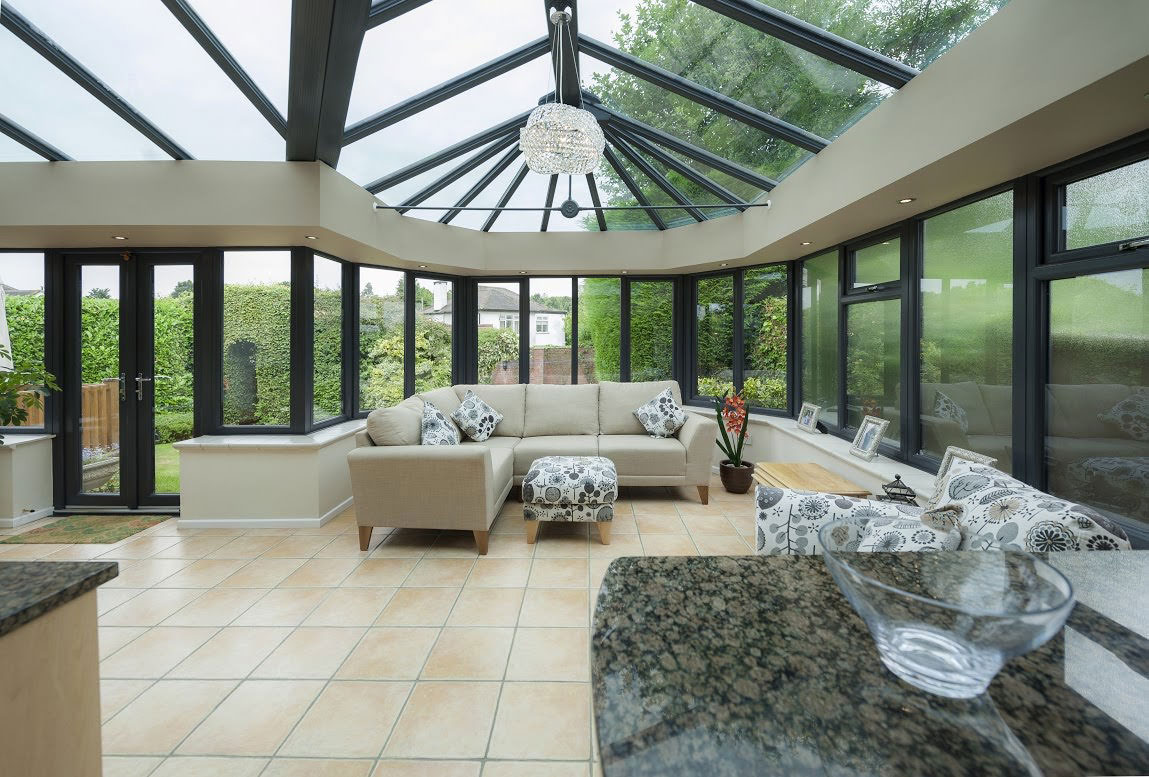 When having an Edwardian conservatory installed with a traditional styled roof your home will be flooded with natural light. The slim sightlines of an Edwardian conservatory allow for large glass panes, which will naturally draw in more daylight and make a beautiful addition to any Hertfordshire home.
Victorian Conservatories
The Victorian conservatory has become one of the most popular conservatory styles available on the market today. Perfect for both modern and traditional style properties, the Victorian conservatory is extremely versatile in design. They typically feature a bay window at the front, with a slanted roof and ornate details featured alongside this.
In more recent years, modern conservatory styles have become increasingly popular. This has sparked a rise in Victorian conservatories being crafted from aluminium, alongside uPVC. The traditional style of the Victorian conservatory is a bay window with three other windows at wide angles.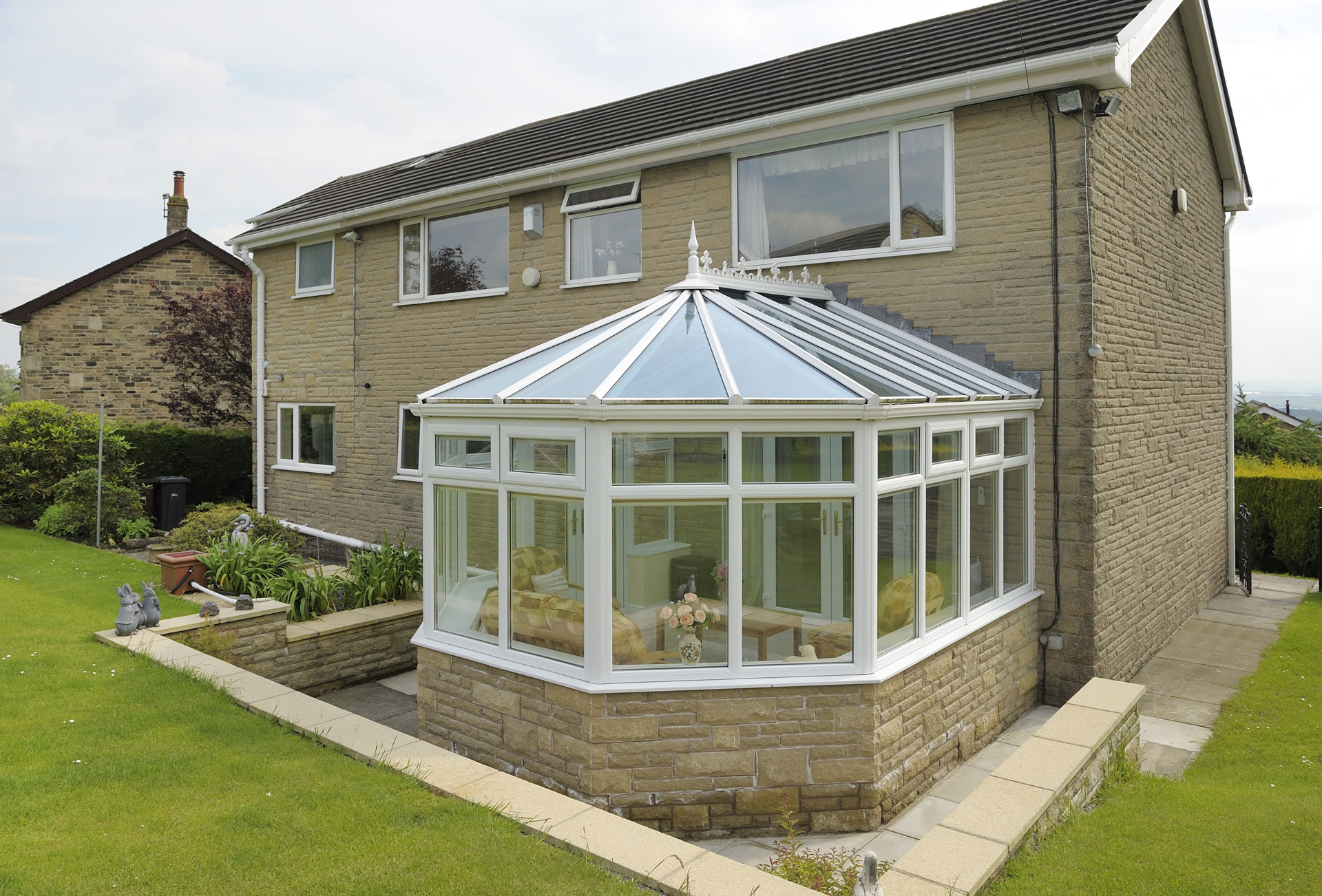 With a number of windows, your Victorian conservatory will flood your Hertfordshire home with natural light. This will create a beautifully ambient living space for you and your loved ones to enjoy. As well as this, your property will benefit from enhanced security and improved thermal efficiency thanks to the advanced double glazing.
Lean-to Conservatory
Lean-to conservatories have become increasingly popular in contemporary style homes over the last decade. Boasting a beautifully minimalistic style, the clean lines of lean-to conservatories provide sleek aesthetics to any home they're installed in.
This modern conservatory is perfect for homes with limited space, with the style being able to fit in areas that are an unusual shape or depth. This is due to the pitch of the roof on a lean-to conservatory being very versatile, with a shallow pitch roof being able to fit under a bungalow and a steeper roof perfect as a terraced house conservatory.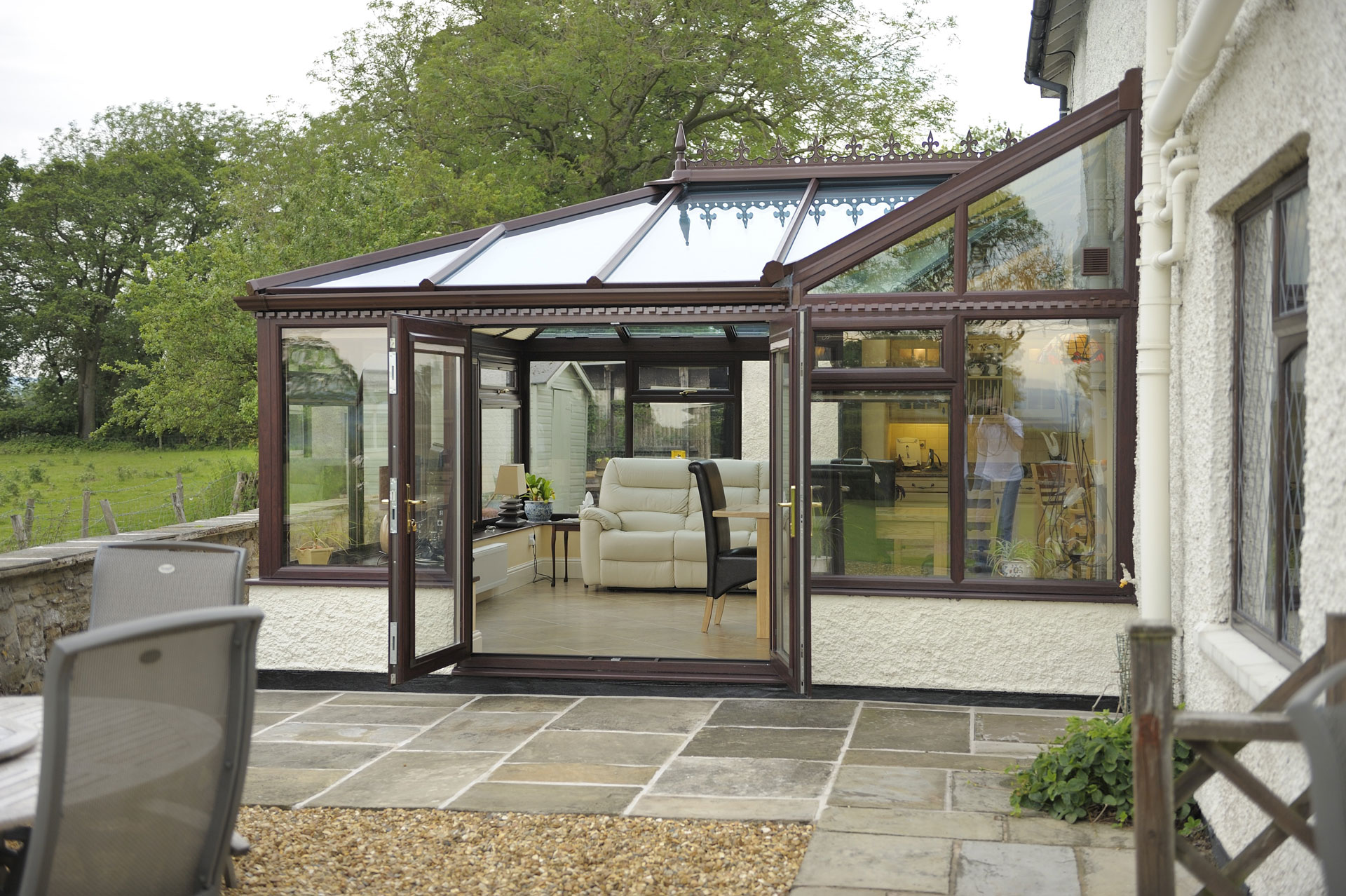 Lean-to conservatories boast large glass panes, allowing your new conservatory to be flooded with natural light. This conservatory will be comfortable all year round, with the double glazing working to turn the winter sunlight into warmth in colder months.
Lean-to conservatories can typically be customised to any shape or style that best suits your home. This will allow Hertfordshire homeowners to maximise their existing space, creating a conservatory tailored to their property.
Gable Conservatories
A gable conservatory works to maximise the space of an existing property. The gable end of this style of conservatory will draw in natural daylight, helping make your space feel bright and airy all year round.
The gable roof conservatory is a very popular choice amongst Hertfordshire homeowners who want to make a bold statement or have more traditional-style homes. The conservatory comprises of large glass panes, making it a fantastic place for spending time with loved ones.
A popular way to customise a gable conservatory is to add additional brickwork to the conservatory. This often consists of a three quarter or complete full-height wall. This is a fantastic way to seamlessly blend your new conservatory with the existing architecture of your home. Added brickwork can also help add an extra layer of strength and security to your extension.
Conservatory Styles in Hertfordshire
Here at Conserv-A-Tech, we offer a comprehensive range of conservatory styles and designs. Hertfordshire homeowners can browse our fantastic selection, with our team dedicated to finding you the perfect conservatory for your property.
You can also get in touch with our expert team via our contact form. Here, we'll be happy to discuss our full range of conservatory styles or talk about your upcoming project.
We look forward to hearing from you soon!
Categories: Conservatory, Updates
Tags: conservatories, conservatories hertfordshire, conservatory designs, conservatory styles, edwardian conservatories, gable conservatories, lean to conservatories, modern conservatory, small conservatory, victorian conservatories